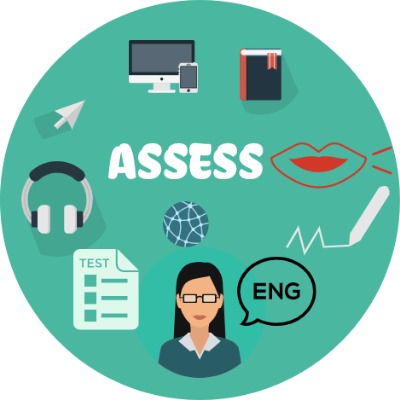 Assessment tools have an empirical role in schools. Traditional approaches of assessment methods such as pencil and paper tests are poor to reflect students' real potential in learning process. These tests cause lack of communication skills and poor problem solving ability for students (Nasri, Roslan, Sekuan, Bakar, Puteh, 2010). The project ASSESS aims to define innovative methods and tools for the assessment of EFL young learners.
In the questionnaire that we administered in our project, English Language Teachers were asked to report whether they would use exams for assessing communicative skills more if they found them ready-to-use in the coursebooks or on online platforms.
Most of teachers remarked that they would use ready-to-use exams taken from the coursebooks or on an online platform. One teacher reported that she was loyal with the coursebook, the other one preferred to use ready-to-use exams since it saved time.
Teachers believed in the assistance of coursebooks as well as online platforms to assess students and tended to use any types of exams depending on their quality and appropriateness for the students they taught.
Even though they tended to use ready-to-use exams that took place in the coursebooks and on online platforms, one teacher indicated to use these exams if they were in line with the learning objectives while the other teacher stated to use these exams by adjusting them according to the students' level of understanding.
With this project, EFL teachers will be able to download and use sample exams or create their own exams with the materials in the portal. Would you use our exams in your lessons?
https://assessproject.eu/wp-content/uploads/2020/03/Gray-Design-Studio-Logo-2-300x300.png
0
0
Ana Fortes
https://assessproject.eu/wp-content/uploads/2020/03/Gray-Design-Studio-Logo-2-300x300.png
Ana Fortes
2020-07-01 10:06:18
2020-07-01 10:06:18
The introduction of the instruction of a Foreign Language in primary schools is in line with the language policy of the European Union, whose aim is to foster functional plurilingualism in future European citizens in order to ensure mobility and cohesion in an increasingly globalized and politically, economically and socially interconnected Europe.
As everyone knows instruction and assessment go hand in hand so naturally. Each makes the other stronger and more meaningful. The question is: how to assess learners' foreign language skills effectively? The issue of effective and age-appropriate assessment is certainly a challenge for FL primary school teachers who have little appropriate and validated material for assessing young learners' foreign language skills, in particular their speaking skills.
Recent studies focus on new assessment of students' spoken proficiency based on interaction and where stakeholders become the centre of interest. The oral interaction may occur with the interviewer for example, the student answers personal questions or describes a picture and subsequently identifies differences between two pictures. Another strategy to foster oral interaction is to provide paired or small group speaking tasks in which the children interact with each other and act out mini dialogues or carry out a mini role-plays. The objective is to prompt young learners to use the language in meaningful and real life situations where the focus is on problem-solving and purposeful task. The validity and usefulness of these new assessment approach is more effective in comparison with the more traditional test.To sum up, for an effective oral proficiency assessment, teachers should provide activities that meet the development of a learner-centred approach keeping in mind that children's contact with the first foreign language at school should be positive and enjoyable.
https://assessproject.eu/wp-content/uploads/2020/03/Gray-Design-Studio-Logo-2-300x300.png
0
0
Ana Fortes
https://assessproject.eu/wp-content/uploads/2020/03/Gray-Design-Studio-Logo-2-300x300.png
Ana Fortes
2020-07-01 09:53:40
2020-07-01 09:53:41
Assessing young learners' speaking skills - Foreign Languages