September has brought the reopening of schools after the lockdown in each country. New measures in each country and the uncertainty of how to organise the classrooms maintaining thousands of children safe are making parents, educational professionals and high positions of authorities anxious.
With the beginning of this new period, the partners of the project ASSESS have had a meeting to guide the development of our project. Despite the impossibility of having a face to face meeting, the project has not been paused in any moment. Now we are carrying out questionnaires about the assessment of speaking and writing skills for teachers.
We are aware of the loads of work that teachers are having daily and of their needs of having their lives facilitated. Because of that, our objective is to give birth to the Online Exam Creator that will provide teachers with some exams to assess English as Foreign Language in the classrooms of Primary Education.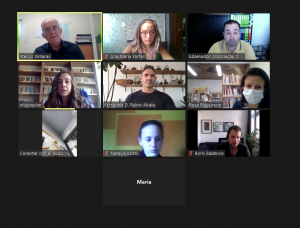 The Online Exam Creator will be developed during the end of this year and the beginning of 2021. Once developed, it will be proved by teachers with their students. If you are a teacher and you want to participate or you are interested in having more information about the project, contact with us in projects@inerciadigital.com
https://assessproject.eu/wp-content/uploads/2020/03/Gray-Design-Studio-Logo-2-300x300.png
0
0
Ana Fortes
https://assessproject.eu/wp-content/uploads/2020/03/Gray-Design-Studio-Logo-2-300x300.png
Ana Fortes
2020-09-28 13:53:22
2020-09-28 13:53:23
Facilitating teachers the Back To School