The COVID-19 has resulted in schools shut across the world.Globally, over 1.2 billion children are out of the class.As a result, education has changed dramatically, with the distinctive rise of e-learning, whereby teaching is undertaken remotely and on digital platforms.Even before COVID-19, there was already high growth and adoption in education technology.Whether it is language apps, virtual tutoring or online learning software, there has been a significant surge in the usage of distance learning environments and e-evaluation techniques in education. It is believed that the integration of information technology in education will be further accelerated and online education will eventually become an integral component of school education. Even after coronavirus, traditional offline learning and e-learning will go hand by hand. There are, however, challenges to overcome.
Important studies and projects are being carried out in order to make distance education effective and efficient.However, there are deficiencies related to e-EVALUATION, which is one of the sub-components of Distance Education. Teachers all around the world are having difficulty in keeping up with this new process.The unplanned and rapid move to online learning – with no training and little preparation – has resulted in a poor user experience in assessment.Teachers are sometimes having to use unfamiliar technologies while at the same time figuring out how to effectively instruct students who may not be very engaged in an online environment. Similarly, students and their families may be frustrated by the technology and the demands created by Distance Education.To cope with these challenges, formative assessment , an ongoing process used by teachers during learning and teaching to provide feedback of student learning to improve student understanding of intended learning outcomes and support them to become self-directed learners,is a recommended solution.
Therefore,the aim of ASSESS project is to identify a sustainable online education and assessment platform in which English Language Teachers can find ready and quality content on the basis of curriculum and evaluate their students constantly with Formative Assessment strategies by interacting on the platform.
To get more information watch our video!
https://assessproject.eu/wp-content/uploads/2020/03/Gray-Design-Studio-Logo-2-300x300.png
0
0
Ana Fortes
https://assessproject.eu/wp-content/uploads/2020/03/Gray-Design-Studio-Logo-2-300x300.png
Ana Fortes
2020-12-29 08:18:01
2020-12-29 08:23:04
FORMATIVE ASSESSMENT IN DISTANCE EDUCATION
Covid-19 pandemic has forced many students to home-school around the world. In many countries, schools are closed, extracurricular activities are canceled and big gatherings are not allowed. Both learning and interaction with peers have to take place online and that switch to virtual sphere has varying impacts on students.
In order to shed a light on learners' experience during the pandemic, Cambridge University Press has conducted a survey that reached out to English language learners from various countries around the world. According to the survey results, "Together with time management and communication, learners felt that keeping up their motivation under the new conditions was among their top 3 challenges". [Read More].
Motivation is an issue not only for the learners, but also for the teachers; motivating their students during the pandemic is one of the biggest challenges that education professionals experience at the moment.
The top three suggestions for motivating students in online learning, given by the language researcher and writer Dr. Heike Krüsemann, includes giving students feasible goals and opportunities to succeed; increasing students' "say" in the learning process; and encouraging peer-to-peer as well as learner-teacher communication [Read More]. This video, a talk made with Dr. Krüsemann, also gives tips on online teaching, as well as motivating and engaging students.
https://assessproject.eu/wp-content/uploads/2020/03/Gray-Design-Studio-Logo-2-300x300.png
0
0
Ana Fortes
https://assessproject.eu/wp-content/uploads/2020/03/Gray-Design-Studio-Logo-2-300x300.png
Ana Fortes
2020-12-04 14:39:31
2020-12-04 14:39:32
Motivating and Engaging Students During the Pandemic
ASSESS Project
ASSESS Project is co-funded by the Erasmus+ Programme of the European Union, as a Strategic Partnership for the Development of Innovation in School Education. It aims to define innovative methods and tools for the assessment of EFL learners. Its main goal is to bring new approaches to assessment and contribute to development of evaluation consciousness. It also wants to support restoration of assessment system and share good practices among European countries.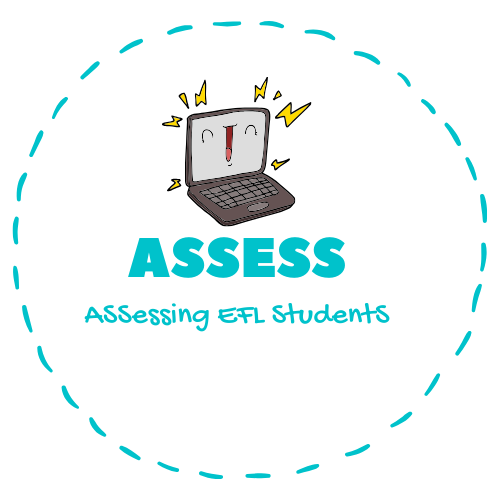 Progress of the Project's Intellectual Outputs
Consortium partners have been working on the intellectual outputs of the project in the past months and have successfully completed the following deliverables:
Intellectual Output 1: Report on Curriculum
All partners created a database of stakeholders relevant for the implementation, and mapped the Curriculum in their respective countries, for the purpose of arriving at the Common Curriculum.
Intellectual Output 2: Database for Online Exam Online Creator
Each partner in the consortium created 50 Tests for 4 topics each i.e. 200 Tests and contributed to the database for Online Exam Creator leading to a database of 1200 tests.
Intellectual Output 3: Rating Scale
The Partner from Greece created a Handbook for Assessments by elaborating the process of constructing scales for Evaluation. The efforts have gone in simplifying the complex and multi-dimensional testing process.
Intellectual Output 4: Online Exam Creator
Currently, the consortium partner from Spain, Inercia Digital, is working on the Online Exam Creator.
Intellectual Output 5: Teachers' Guidebook
In the coming months, after the completion of the Online Exam Creator, the consortium will proceed to the final intellectual output, the Teacher's Guidebook.

https://assessproject.eu/wp-content/uploads/2020/03/Gray-Design-Studio-Logo-2-300x300.png
0
0
Ana Fortes
https://assessproject.eu/wp-content/uploads/2020/03/Gray-Design-Studio-Logo-2-300x300.png
Ana Fortes
2020-11-23 09:50:30
2020-11-23 09:50:30
ASSESSING EFL STUDENTS